And finally after waiting 4 months for the windows and external doors to arrive from Austria, they were delivered to site on Thursday.
A big thank you to The Foot family for providing us with a telehandler JCB and a driver to help unload 3 tonnes of glazing on 4 large palettes.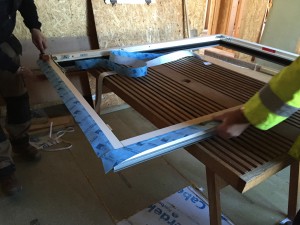 The window installers have started installing the smaller units on the first floor. Fitting windows to Passivhaus airtight standards takes precision and meticulous detailing to make sure the gaps around the windows get sealed and are airtight. We are using the Proclima Tescon Profil airtight tape around the frame internally, filling the gap with Illbruck F330 expanding foam and Extoseal Encors to the external wall & frame (especially under the cills).
The windows and external doors are highly thermally insulating low energy. The frames are a combination of timber on the inside and powder coated aluminium on the outside. They have excellent thermal insulation (Ug=0.5W/m2K Uw=0.69W/m2K) and soundproofing values up to 46dB.
Our Passivhaus Consultant and the timber frame manufacturers have recommended that we position the windows 80mm inwards from the airtight layer (16mm DWD Agepan breather board) in order to achieve optimum thermal performance.
For an architect running their own self build it is both rewarding and challenging. I am finding that there is much to learn about construction methods, sequencing, and the detailing required to build to passivhaus standards that a conventional build would not offer.
Every day on site is a CPD day for me!