The first air test was carried out on April the 1st 2016.
It acheived 0.72pa ACH50. To reach Passivhaus standards it will need to be below 0.6pa.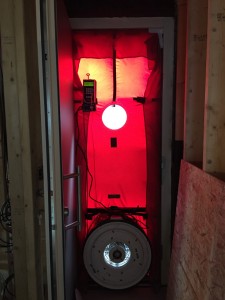 The air test was carried out on the DWD layer which is the external skin of the structure.
We spent most of the Easter weekend taping the internal membrane and sealing around the Windows. We ran out of tape on the Saturday afternoon and had to make a quick dash (1hour each way)to Back to Earth in Exeter for a box of Udi tapes. Thanks to Chris Brookman for opening up over the bank holiday weekend. We think the Udi tapes have more stickiness than the Tescon tapes.
Unfortunately we ran out of time before the pre-booked air test date, and we knew there were three windows that were not properly sealed. We also heard the ground floor sliding windows whistling during the test and we noticed that they too had not been properly sealed with silicon.
Therefore we are currently taping the internal Intello vapour barrier which we hope will create further air tightness. We feel confident that with the windows sealed and the additional air tight layer we should achieve the passivhaus requirement on the next air test.
We underestimated the amount of time it takes to hang, staple and tape the internal membrane, along with underestimating the amount of tape needed!